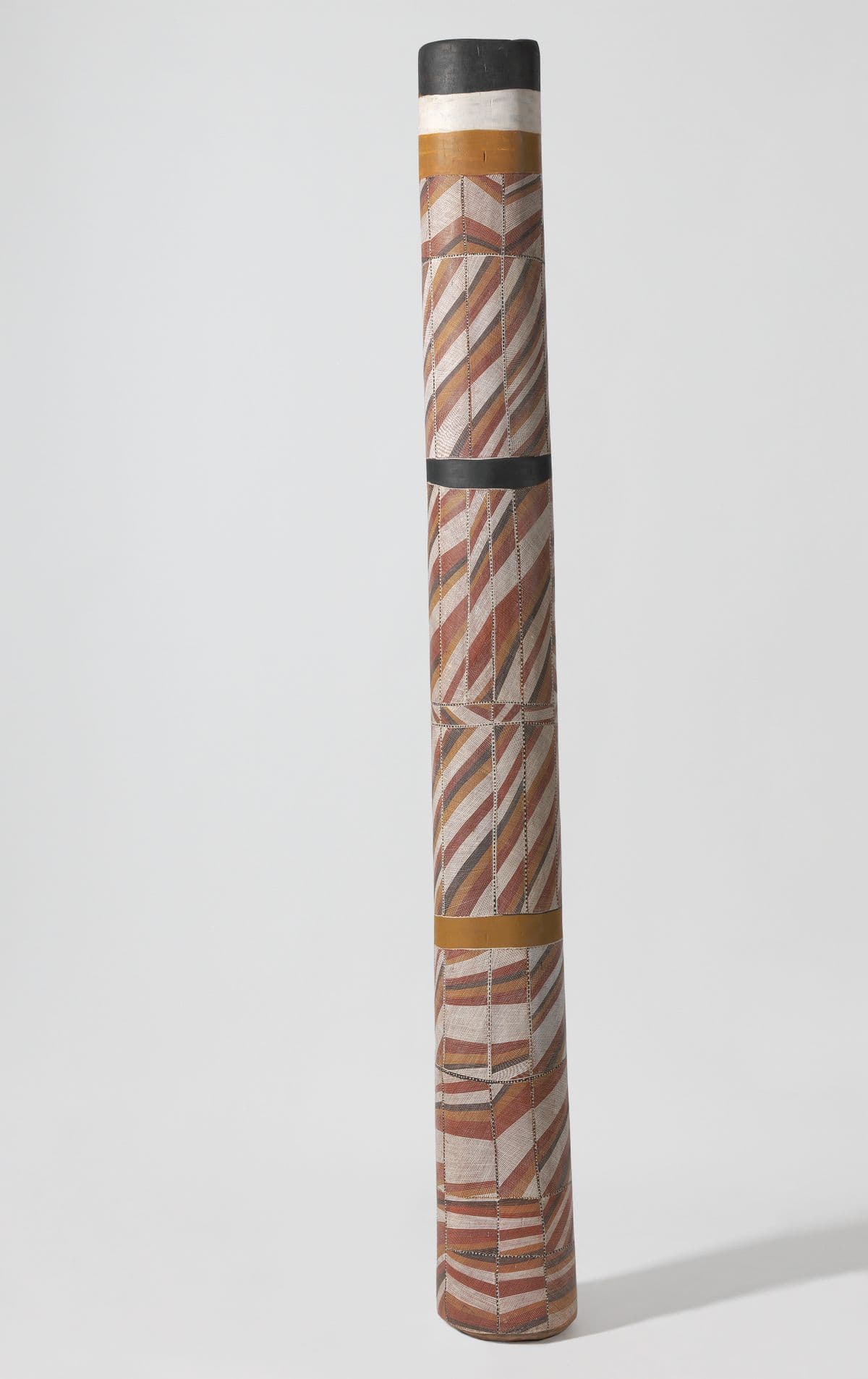 The Kuninjku people inhabit country of abundant freshwater resources — the area west of Ramingining around the Liverpool River.
The noticeable shift in John Mawurndjul's painting style reflects the transition to the Western Arnhem Land approach to painting, characterised by fields of dynamic rarrk (cross-hatching) across the surface.
These designs, like the images on all the hollow logs in the Memorial, have close links to the tradition of body painting for ceremony.
The path through the Memorial imitates the course of the Glyde River estuary which flows through the Arafura Swamp to the sea. The hollow log coffins are situated broadly according to where the artists' clans live along the river and its tributaries.
This map indicates Kuninjku land and position in the memorial poles.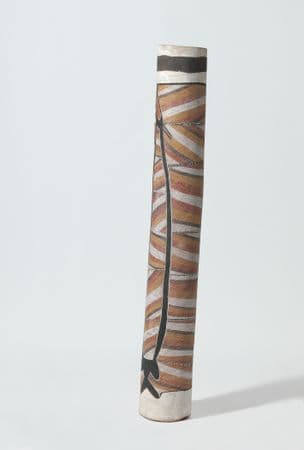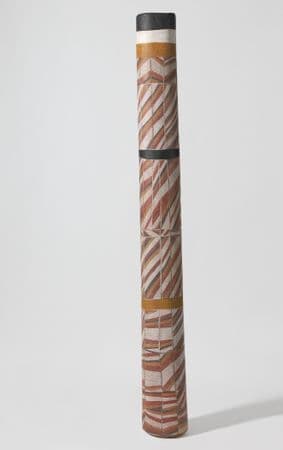 Clan stories
Kuninjku — Mardayin Story
Mardayin means sacred law and refers to all things within the realm of the sacred, including objects and emblems, events, totemic species and places. It is also the name of a ceremony in which men dance at a secret place and the older men reveal their clan's sacred objects to the younger men. In the public part of the ceremony men and women dance together and girls learn the women's dances. This ceremony can also be performed to farewell an old person who is close to death, or to commemorate an important person who has died.
Mardayin is rarely performed in Western Arnhem Land now in favour of ceremonies which emphasise wider regional groups. The two hollow logs made by John Mawurndjul for The Aboriginal Memorial, however, relate to the Mardayin.
Kuninjku artists draw upon traditions of body painting in their work, filling the whole surface with abstract, mainly geometric, fields of cross-hatching (rarrk) or portraying a single animal or ancestral figure in the centre of a plain ground, and filling its body with rarrk.
Some elements of Mawurndjul's designs in the hollow logs shown here map the country, showing water, waterholes and sites. More specific meanings, however, are restricted to initiated clan members who learn the significance of the design and its specific relationship to an ancestral site or event through ceremonies.
One hollow log depicts two birds kaldurrk, the blue-winged kookaburra (Dacelo leachii), and ngukbak, the spangled drongo (Dicrurus bracteatus). Both birds, especially the kookaburra, are associated with the Mardayin ceremony.
Artist
John Mawurndjul
Born: 1952
Language/Clan: Kuninjku
Moiety: Yirritja
Subsection: Balang
Outstation/country: Mumeka
Group in Memorial: Kuninjku
Paints: His mother's country