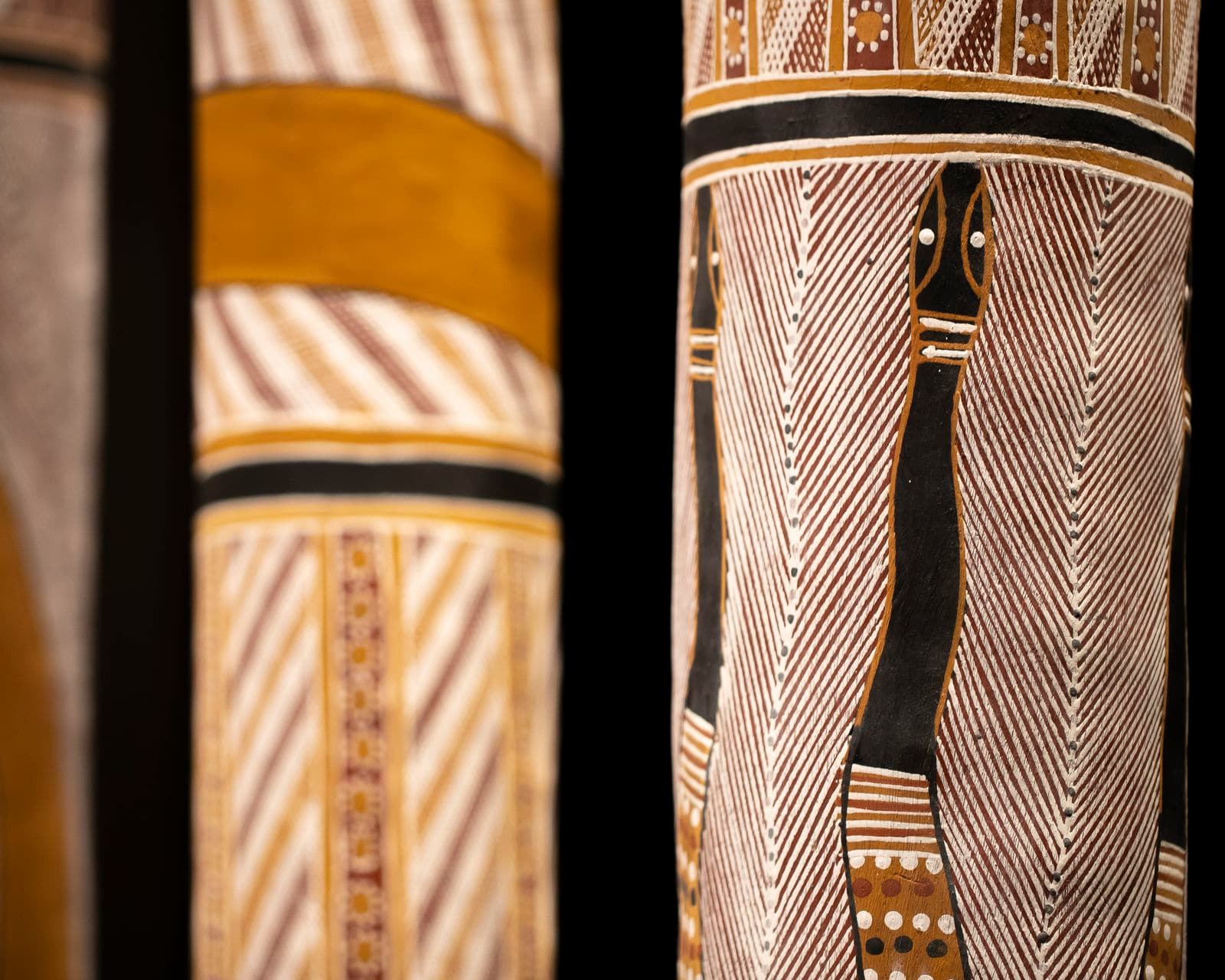 The Aboriginal Memorial is an installation of 200 hollow log coffins from Central Arnhem Land. It commemorates all the indigenous people who, since 1788, have lost their lives defending their land. The artists who created this installation intended that it be located in a public place where it could be preserved for future generations.
1988 marked the Bicentenary of Australia, a celebration of 200 years of European settlement, yet many indigenous Australians felt that there was little to celebrate. The Bicentenary elicited varied responses from both white and black Australia. Whilst it provoked widespread boycott and protest, the stage was set for indigenous people to demonstrate the resilience and vitality of their culture, and to invite the public to share in the celebration of that culture's endurance. The Aboriginal Memorial was inspired by this political climate.
At the time, Djon Mundine was Art Adviser in Ramingining in Central Arnhem Land. The idea for the project was triggered when Mundine saw a video of John Pilger's documentary 'The Secret Country', in which Pilger talks of the decimation of a tribal group who owned land on the Hawkesbury River in New South Wales, and who died 'to the last man, woman and child defending their country'. Pilger later says, 'lndeed, in a land strewn with cenotaphs which honour the memory of Australian servicemen who have died in almost every corner of the earth, not one stands for those [first Australians] who fought and fell in defence of their own country.'
'In the course of my work at Ramingining, the major role was to make the world more aware and appreciative of Aboriginal art and culture,' Djon Mundine has said. He initiated The Aboriginal Memorial project with its 200 hollow log coffins, one for each year of European settlement, representing a forest of souls, a war cemetery and the final rites for all indigenous Australians who have been denied a proper burial.
Mundine approached a small group of senior artists including Paddy Dhathangu, George Malibirr, Jimmy Wululu and Dr. David Daymirringu . The project grew to include 43 artists, both male and female, from Ramingining and its surrounds in Central Arnhem Land.
In 1987 the Memorial was offered to the National Gallery of Australia, but at that stage the project was in its infancy. The National Gallery therefore agreed to commission the installation to enable the artists, most of whom are professional bark painters, sculptors and weavers, to complete the project. The Memorial was initially shown at the Biennale of Sydney in 1988, then brought to Canberra where it is now permanently housed in the National Gallery of Australia.
1988 Opening Speech
Read an excerpt below from the speech by inaugural National Gallery Director James Mollison at the opening of The Aboriginal Memorial in 1988:
"… We are fortunate to have with us three of the artists involved in the making of The Aboriginal Memorial, George Milpurrurru, David Malangi and Roy Burrunyula, who are accompanied by the art adviser to the community of Ramingining in central Arnhem Land, Djon Mundine.

Last year John visited me at the Gallery with a proposal that he said, "might shock" me. He produced photographs of the first twenty or so painted hollow logs which were to form part of The Aboriginal Memorial. The works looked stunning.

John went on to describe how the idea of the Memorial came about; how in discussions with some of the local artists they had perceived that, while there exist in all Australian villages, towns and cities, memorials commemorating those who gave their lives defending their country, there were no such memorials to the Aboriginal people who had died defending their land over the last 200 years.

The photographs John showed me were of the first of the projected 200 hollow log coffins that would comprise The Aboriginal Memorial.

The hollow logs are like those coffins traditionally used to house the bones of important deceased people in second burial ceremonies which take place some months after the initial burial.

The hollow logs in the Memorial were made specifically for it and never contained bones or were used in ritual. They have been made by artists of the calibre of George Milpurrurru, David Malangi and Roy Burrunyula – who are here today – artists whose paintings on bark we know well and appreciate for their beauty and strength.

The notion of a work of art of such profound significance and on such a monumental scale as The Aboriginal Memorial appealed very much to the Gallery. The Memorial represents a watershed in Aboriginal art in that it presents a potent public statement through a major work of art – perhaps one of the most important works of art ever to be created in this country.

As a result, the Gallery was pleased to be able to provide the funds to allow the project to reach completion, and to provide, according to the artists' wishes, a home for the Memorial where it could be cared for physically and where it could be made accessible to the general public.

A measure of the significance of the Memorial to the people in central Arnhem Land is that originally only ten artists were to be involved in its creation; however interest in the local community was so intense that we now have just over 40 artists contributing to the project.

The artists come from an area which stretches from Ramingining in the north of Arnhem land some 300 kilometres south towards the town of Katherine, covering nine major clan areas.

While there exist very strong social and cultural links between these people, the work of the artists represented in the Memorial displays a diversity of subject matter and painterly styles, and a highly personal touch.

As a measure of recognition of the significance of the Memorial outside Arnhem land, it was announced last night in Brisbane that the artists of Ramingining who created the Memorial were awarded the prize of National Aboriginal Artist (in this case artists) of the Year, an annual award presented by the National Aboriginal and Islander Day Observance Committee to the outstanding Aboriginal or group in any field of artistic endeavour.

Ladies and gentlemen, I have the pleasure to introduce to you four of the major protagonists in the making of this memorial...

The artists, George Milpurrurru, David Malangi and Roy Burrunyula, who in a few minutes time will sing the Memorial into its new setting at the Gallery in a short ceremony; and Djon Mundine, the art adviser at Ramingining who will say a few words before we move down to Gallery 9 …"