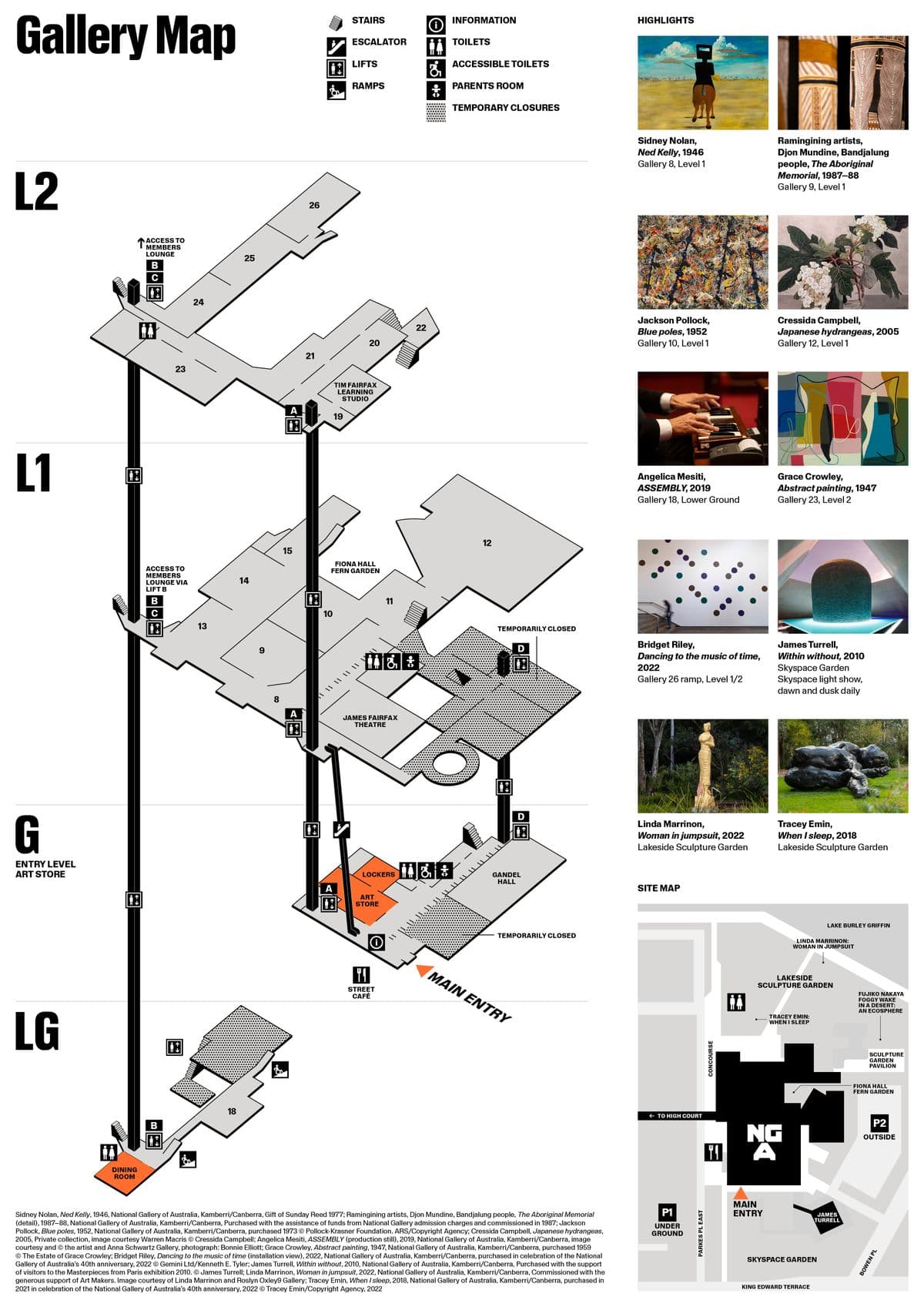 To celebrate our 40th birthday in October, we are working on new collection presentations and exhibitions. Critical building upgrades will also enhance your visitor experience.
During this time some galleries are closed.
See what's open
See the Gallery Map showing gallery spaces that are open.
Go to the What's On calendar to see what's on at the Gallery.
Speak to our Visitor Experience team when you arrive at the Gallery.
Take a free tour with a Gallery Guide; daily from 10.30am and 2.30pm.
Exhibitions currently on:
Cressida Campbell
Gallery 12, Level 1
Until 19 Feb 2023
Rauschenberg & Johns: Significant Others
Gallery 15, Level 1
Until 29 Jan 2023
Kara Walker
Gallery 26, Level 2
Until 5 Feb 2023
The Aboriginal Memorial
Gallery 9, Level 1
Worldwide
Gallery 8, 10, 11, 13 & 14, Level 1
Australian Art
Galleries 19 to 25, Level 2
Sculpture Garden
Outdoor Gallery spaces
Enjoy the Sculpture Garden Art Trail for kids – collect your map from the main entrance.
FAQs
What building upgrades are happening at the Gallery?
Major capital works to improve and preserve our heritage building are underway including lighting, electrical, signage and mechanical infrastructure upgrades. There may be some construction noise during this time.
We are grateful to the Australian Government who are supporting this important program of capital works.
When will the Aboriginal and Torres Strait Islander Galleries reopen?
Galleries 1–7 will reopen in February 2023.
Is Jackson Pollock's Blue Poles on view?
Blue Poles is on view in Gallery 10.
Is there information and images of Blue poles available online?
The Blue Poles microsite has images, stories and information about the artist and the work of art.
Is the Sculpture Garden open?
The Lakeside Sculpture Garden and Skyspace Garden are open.
The Fiona Hall Fern Garden is temporarily closed.